2018年11月13至15日 Nov. 13 – 15  上海跨国采购会展中心, 中国上海 Shanghai Convention & Exhibition Center of International Sourcing, Shanghai, China
光复西路2739号, 近中江路
上海跨国采购会展中心依傍长风公园而立,是一座集展览、会议、活动及餐饮等多功能于一体的现代化、国际化的会展中心,并毗邻便捷的地铁公交网线。点击此处查看来馆方式。
2739 Guangfu Xi Lu, near Zhongjiang Lu
Located alongside Changfeng Park, the center is a modern international complex of exhibition, convention, activities and catering. It is conveniently located near the subway transportation network. Click here to see how to get to CECIS-Shanghai.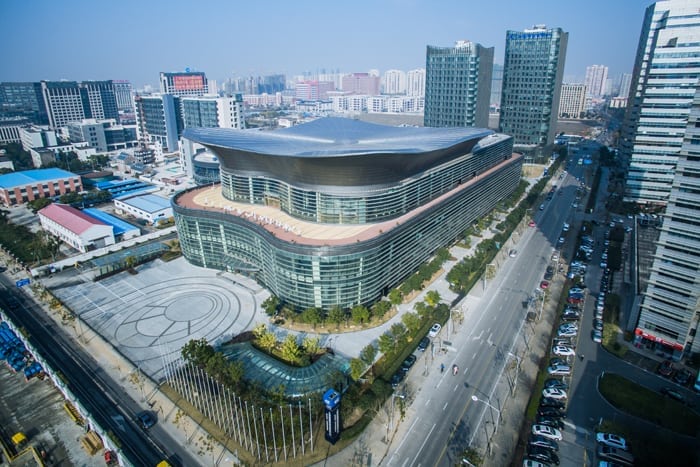 普陀区大渡河路 158 号上海, 200062 中国
上海长风公园JW万豪酒店位于上海西部的长风生态商业区,毗邻上海国际采购会展中心(CECIS)。点击此处了解交通信息。
我们已经与酒店协商了折扣房价: RMB 1300 / USD $195。房价包括了服务费及税,每日1份免费的早餐,以及无线网络连接。请注意,在2018年11月2日星期五之后,酒店将不保证我们的团体房价。
预定酒店房间
158 Da Du He Road, Putuo District, Shanghai 200062 China
Located in the Changfeng Ecological Commercial District in west Shanghai, the JW Marriott Hotel Shanghai Changfeng Park is adjacent to the Shanghai Convention & Exhibition Center of International Sourcing. Click here to see how to get to the hotel.
We have negotiated a discounted room rate to include service charge and tax, one complimentary breakfast each morning and internet access: RMB 1300 / USD $195. Please note that our group rate will not be guaranteed after Friday, November 2, 2018.
Important: The Linux Foundation will never reach out to attendees by phone to make hotel reservations for our conferences. Please be advised that the most secure way to book in our discounted room block is by using the direct booking like provided above, or by calling the hotel directly. If you do receive a phone call from someone claiming to be with The Linux Foundation or the hotel and they attempt to sell you a hotel room, please email us at events@cncf.io.
If you have any questions related to the room block or conference hotel, please email the events team at events@cncf.io.
BOOK A ROOM
其他交通信息
地铁站
娄山关路站 (2号线):2 公里
金沙江路(3,4号线): 2 公里
火车站
上海火车南站:10 公里
上海火车站:6 公里
Parking
Free parking for hotel guests
Other Transportation

Bus Station
No.101 Bus 0.2 miles E from Hotel
No.44 Bus 0.3 miles E from Hotel
No.944 Bus 0.2 miles E from Hotel
Subway Station
(Line 13) Daduhe Road 0.7 miles SW from Hotel
(Line 2) Loushanguan Road 1.2 miles S from Hotel
Train Station
Shanghai Hongqiao Railway Station 6.2 miles SW from Hotel
Shanghai Railway Station 3.7 miles W from Hotel
我们很高兴与您分享上海所能提供的一切!位于中国中部海岸的上海是中国最大的城市和全球金融中心。上海的核心是外滩,这条着名的海滨长廊上排列着殖民时期的建筑。浦东区的未来主义天际线遍布黄浦江,包括632米的上海塔和带有独特的粉红色球体的东方明珠电视塔。豫园有传统的亭台楼阁和池塘。
We're thrilled to share all that Shanghai has to offer! Shanghai, on China's central coast, is the country's biggest city and a global financial hub. Shanghai's heart is the Bund, a famed waterfront promenade lined with colonial-era buildings. Across the Huangpu River rises the Pudong district's futuristic skyline, including 632m Shanghai Tower and the Oriental Pearl TV Tower, with distinctive pink spheres. Sprawling Yu Garden has traditional pavilions, towers and ponds.
上海的游览景点 Top Things To See & Do in Shanghai
外滩 The Bund 
外滩这座"国际建筑博物馆"也被称为亚洲的华尔街。正如在上海所有的描述中所宣传的,您在尝试拍摄完美的全景照片时,外滩会使您惊叹和敬畏。
A ʺMuseum of International Architecture" also known as the Wall Street of Asia. As advertised in almost every depiction of Shanghai, the Bund is nothing short of amazing and will leave you in awe, as you try to capture the perfect panorama shot.
豫园 Yu Garden 
豫园是上海的必到景点之一。您可以像在电影中一样体验中国古典园林建筑,而无需离开上海的现代城市景观。明园建于1559年,现已成为国家级历史文化遗产的豫园已成为几个世纪以来无数次破坏性战斗的骄傲和韧性的象征。
A definite must, Yu Garden is where you'll get your fix of classical Chinese garden architecture just like in the movies, without having to leave the modern cityscape that is Shanghai. Built in 1559 during the Ming dynasty, Yu Garden, now a national monument, is a symbol of pride and resilience having withstood numerous destructive battles for centuries.
城隍庙 Chenghuang Miao 
上海的城隍庙是游客最常去的地方,也是购物的最佳场所。它仍然保留着城隍庙里非常著名的美食街。
Shanghai's City God Temple in English or Shanghai Chenghuang Miao is the commonest, attractive place and shopping corner for visitors. It remains as a very famous food road in Shanghai Chenghuang Temple.
陆家嘴摩天大楼 Lujiazui Skyscrapers
陆家嘴是上海的中心商务区,也是中国的金融中心之一。陆家嘴因其著名的摩天大楼天际线而闻名,并拥有数不清的高端餐厅和酒店。
Lujiazui is the central business district of Shanghai and one of the financial powerhouses of China. Best known for its remarkable skyline of shimmering skyscrapers, Lujiazui is home to countless high-end restaurants and hotels.
南京路 Nanjing Road 
南京路是喜欢购物的人的最佳去处,在这里你会发现很多国际品牌以及本土品牌。这里不仅有很棒的购物场所,还有街头艺人,当地人散步和沿途的美味小吃。
Nanjing Road is the go-to spot for those that love to shop, you'll find all of those international brand as well as local brands. Not only great shopping, there you'll also find street performers, locals out for a stroll and some great snacks along the way.
东方明珠电视塔 Oriental Pearl TV Tower 
作为上海最知名的地标性建筑,东方明珠电视塔在这个城市的景观中占据着重要地位。其中最激动人心的是位于1,148英尺处的观景台。
As Shanghai's most recognizable landmark, the Oriental Pearl TV Tower occupies a prominent place on the city's landscape. The most thrilling viewpoints are from the "Space Module" – the highest observation deck, sitting staggering 1,148 feet above the ground.
上海迪士尼度假区 Shanghai Disney Resort 
上海迪士尼度假区是中国大陆第一家迪士尼度假村,是一个可以让朋友和家人一起体验全新的幻想和创意的冒险世界。该度假村是上海迪士尼乐园主题公园的所在地,该主题公园拥有六个园区,两个主题酒店,以及迪士尼小镇等等。
Shanghai Disney Resort, the first Disney resort in Mainland China, is a place where friends and families can escape together to a whole new world of fantasy, imagination, creativity, and adventure. The resort is home to the Shanghai Disneyland theme park which features six lands, two themed hotels, Disneytown and more.
田子坊 Tianzi Fang 
田子坊是一个旅游工艺品的集中地,从中国上海法租界的传统住宅区经过整修发展而来。它现在是精品店,酒吧和餐馆的所在地。
Tianzi Fang is a touristic arts and crafts enclave that has developed from a renovated traditional residential area in the French Concession area of Shanghai, China. It is now home to boutique shops, bars and restaurants.
上海新天地 The Shanghai Xintiandi 
上海新天地由于其建筑而显得非常独特。它拥有传统的墙壁,瓷砖以及古代上海石库门的外墙。它的内部却相反的体现了一个完全不同的世界 – 国际画廊,酒吧,咖啡馆,精品店和主题咖啡馆等。
The Shanghai Xintiandi is very unique due to its ideal building construction. It holds the traditional walls, tiles plus the outer of Shikumen housing of ancient Shanghai. Instead of this, its interior embodies a completely different world of international galleries, bars, cafes, boutiques and themed cafes.
通过实时通讯与我们保持联系 Stay Connected With Our Newsletter
登记以及时了解KubeCon + CloudNativeCon的最新状态,如主题演讲公布,重要的日程表和活动通知,以及专属的场外活动等。Sign up to be kept up-to-date on the latest developments around KubeCon + CloudNativeCon, like keynote announcements, important schedule and event notifications, exclusive offsite activities, and more.
社区合作伙伴 COMMUNITY PARTNERS
请在联系我们之前先查看所有的活动页面,因为很多问题的答案都可以在网页上被轻易的找到。如果您找不到问题的答案,并希望给我们发电子邮件,请联系events@cncf.io。Before contacting us, please review all event pages as answers to many questions are readily available throughout this site. If you cannot find the answer to your question and would prefer to email us, please contact events@cncf.io.